Bir Billing- a feeling, not a destination!
Bir and Billing are the twin villages of Himachal Pradesh nestled in the famous Kangra valley at around 14kms away from each other. The two villages are at an altitude of more than 1500 meters, making it the paragliding capital of India and the 2nd best paragliding site in the entire world.
Bir has a combination of both native Himachal people and the Tibetan refugees who call this hamlet their home. Blessed with numerous monasteries, this village is truly the hub for meditation, eco-tourism, and a peaceful retreat away from the city lights. At the same time, Bir is both touristy and an adventure spot owing to the picturesque backdrop of the Dhauladhar Mountain Range, its natural waterfalls, and of course paragliding, thus making it a complete package in itself.
For me, Bir isn't a destination; it is a beautiful feeling. It is tranquil, serene and still unexploited by the dearth of humans and offered me both adventure and calm at the same time. I also got to witness the most seraphic sunsets and the clear skies, which is the ultimate speciality of Bir; hence it ended up being super close to my heart.
While Bir Billing in Himachal is ideally considered to be a weekend getaway, I would say that even a week spent in this paradise is less. This place has so many hidden gems that can only be discovered while living a slow life here. This blog is crafted to provide you with a complete guide of Bir Billing- the itinerary, the places to stay, hidden gems and useful tips for planning a trip. Go ahead and relish…
How to reach Bir Billing?
The journey to Bir is as charming as the destination. It is through the Kangra valley which is exceptionally gorgeous surrounded by the Dhauladhar Range, lush green forests, tea estates, and the terraced mountains.
Bir Billing is well connected to the nearby hill stations and the main cities such as Delhi and Chandigarh. Hence, it is easily accessible by various modes of transportation such as HRTC buses, Volvo buses, private taxis, and even trains.
How to reach Bir Billing from Delhi- Delhi to Bir Billing is around 520kms, and it usually takes about 12-13 hours to reach there. The cost of the bus from Delhi varies around 1000-1500INR.
How to reach Bir billing from Chandigarh- Chandigarh to Bir is around 290kms, and the journey takes around 7-8 hours.
In my view, both HRTC buses and Volvo buses are the most convenient modes as direct buses are available at various timings throughout the day. They can be booked conveniently from the Redbus app.
Local transport in and around Bir and Billing
There is ample availability of taxis to go in and around Bir. They are not much expensive, although a little negotiation never harms.
However, everything is the village is mostly within walking distance. So, you can always stroll to places and save yourself some extra bucks.
You can also rent a bicycle and go about the village. This is fun and convenient too. It costs around 200 INR/ day.
Best time to visit Bir Billing
Most hill stations are all-year-round destinations, and so is Bir. However, different times of the year have a distinct charm on its ambience.
The summer season (April to July) is the most favourable as the sky is clear around that time. The weather is pleasant, and it is the peak time for activities such as paragliding, trekking, hiking, and camping.
The monsoon season (August to mid- September) experiences good rainfall here. Hence, you cannot paraglide during this time. So in case, you are coming in this season, and you wish to fly, do reconfirm once before you plan your trip. On the other hand, the village is charming during this time because of lush greenery, overflowing waterfalls and natural pools.
Paragliding re-commences from mid to late September depending on the weather conditions. This is my favourite time to visit this hamlet as it is adorned with cloudy skies and sun peeping from behind. There is a tinge of cool breeze and occasional showers which makes it exceptionally gorgeous.
The winter season (October to February) is cold here, and it mostly snows by the end of December. After the snow, the village turns into a winter wonderland and is an exceptional sight for the eyes. This time of the year is ideal for flying (both short and long flights) and learning professional paragliding.
Best Places to stay in Bir Billing
For stay, Bir has a couple of options such as hotels, backpacking hostels, campsite, homestays, and guest houses. Hostels, campsites, and homestays are among the cheaper options. The prices may vary from 500- 2500 INR. Depending on your pocket, you can choose the best available options. Bir Billing hostels can be easily booked for accommodation from booking.com or hostelworld.com.
My vote undoubtedly goes to backpacking hostels as they are budgeted, vibrant and quite interactive. I had stayed at the Bir Nest Hostel in Chougan village, and I had a genuinely fantastic experience. It has both bunk beds and private rooms available. The hostel is situated at a good location and is centrally placed. The landing site, monasteries, and cafes are almost within walking distance from here. Also, the sunset view from the hostel is worth it.
You can check the latest availability and prices here: Bir Nest.
Paragliding in Bir billing
Paragliding in Bir billing is a star attraction; after all, it is the world's second-best site. In 2015, the first Asian paragliding world cup was held at this very site which made Bir world famous. It is an ideal site as it has an infinite open sky, appropriate altitude, and best flying conditions.
Honestly, paragliding was one of my bucket list items, and finally, on my 24th birthday, I ticked it off. Trust me; I cannot put in words the experience it offers. The ultimate feeling of adventure, being free, flying like a bird and that calmness amidst all the adrenaline rush is what it is all about.
I would say that no matter how much height or adventure scares you, paragliding is a must-do adventure sport. Flying above the clouds, over the mountains and tiny huts and the cool breeze is a feeling like none other.
It is available in 2 options- long and short flights. Long flights are expensive and may last 1-2 hours depending on the package. Short trips are the ones that are mostly taken, which are of around 20-25 minutes. I know…I know… this is too less!! It starts from the take-off site at Billing which is about 14kms from Bir, and the landing takes place at the landing site near the Tibetan colony in Bir.
Bir Billing paragliding cost ranges around 2000- 3000INR depending on the season with an additional charge of 500INR for the go pro video and 200INR for the photos. Paragliding at Bir is safe; the only thing to be mindful of is that you should only do it with a licensed pilot.
Things to do in Bir
This list almost seems endless as there is so much to see in do in both the villages, Bir and Billing. Here are my favourite to-do things-
Watch paragliders and seraphic sunsets at the landing site
This is personally my favourite and one of the most romantic things to do in Bir. The sunsets at Bir are exceptionally grand and unique. Landing site near the Tibetan colony is the best place to end your day watching the sunset.
It is also the site where the paragliders land after their flight. So, you can well imagine the widely open space with vast blue sky adorned by many colourful parachutes. There are plenty of cafes nearby, and people often come here for picnics as well.
Connect to the Tibetan culture at the Monasteries
Bir Billing is famous for five stunning monasteries and institutes which are The Paplung Sherabling Monastery, The Tsering Jo Monastery, The Chokling Monastery, The Nyingyang Monastery, and The Dharmalaya Institute.
The monasteries have a unique architecture with stupas and beautiful gardens. These are famous for meditation sessions, teaching young monks, and training sessions for retreats. You can come here to learn Tibetan lessons, meditate and to know more about life from the monks.
Play basketball with the monks
There is a basketball court in the Tibetan colony where at the time of dusk monks play basketball and sometimes football too. You can join them for a game, and they are most happy to welcome you. It is always a good idea to bond with the locals, and this also gives an insight into the local culture and their minimalistic lifestyle.
Trek to the offbeat waterfalls and natural pools
This is one of the lesser-known things in Bir and the one which is often missed by the tourists– the Gunehar Waterfall near Bir Billing. Gunehar village is a tiny village around 1.5-2 km away from Bir, and you can easily hike to reach here. Flowing through the town is the Gunehar River which forms natural pools and small waterfalls which are refreshing and gorgeous. You can visit here as a day trek and click instagrammable pictures here.
The trek is quite easy, and you don't need a guide for this one. But do remember to not go during the rainy season as you might lose your way on such days. Also, it gets muddy during that time and yes, not to mention I got bitten by a leech too. So, avoid this during monsoons.
In case you lack the incentive to walk long stretches on treks, don't worry, I have the right dose of motivation for you.
When in the Tibetan colony, Relish the Tibetan cuisines
This is inevitable when you are in Bir. The entire Tibetan colony is a hub for cute cafes, tiny shops that make authentic Tibetan cuisines such as momos, thupka, sha phaley.
And a momos lover like myself can go gaga at the tempting fragrance of the momos being cooked in the entire colony. So, do not stop yourself from indulging in these street foods.
Try the local wine- Rhododendron
When I have already talked about the food, how can I forget about the wine? So at every wine shop in Bir, you can expect to find many kinds of local liquors and especially, wines. Out of all the variants, my favourite is the rhododendron wine which is available in many variants.
Honestly, it's quite cheap not one of those very smooth and luxury wines, but it is something that's made locally. And when I travel, I prefer to indulge intensely in the local food and drinks. So, it's one of the things I'd highly recommend you to try.
Explore the local cafes
The cafes in Bir are extraordinary and honestly something I haven't been able to get over with. I feel Bir is underestimated in terms of food because honestly, I am a die heart fan of the food and the ambience of the cafes.
Here is a list of the cafes that I had visited and fallen in love with. You can try others and if you find some other option which can fit this list, do write to me!
Avva's café– So, the number 1 on my list is definitely the Avva's café. It is a south Indian café owned by a Maharashtrian couple who gave up their life and belongings in Pune and shifted to Bir after their son fell head over heels in love with Bir on his solo trip here. Isn't that incredible and unbelievable too!! It is built right in front of a farm and has a rustic feel. They have an option of indoor dining, terrace dining and my favourite, the outdoor dining with a backdrop of the lush green field. Never in my life have I eaten south Indian food as authentic as theirs. The Avva's special dosa is their delicacy and a blessing for the taste buds. It is a unique kind of a dosa made by putting three different kind chutneys inside, and they have a tradition of serving the order with South Indian welcome drink (rasam). So, do go and try this out and maybe thank me later. 😛
The Northern café– This café is another spot in Bir which is very dear to me. It is a damn cute café with a raw vibe and has both an attic and an open seating. The food is still quite okay-ish, but the ambience with books, lanterns, dream catchers and comfy flooring is to die for. Its location is a little deep into the village, but it is one of the perfect places to witness the enigma of Bir. The view from the café is straight to the landing site, so you get to relish your food watching the paragliders soaring in the sky and the sun touching the horizon. At night, expect to see millions of stars peeping at you while you enjoy your romantic date. ☺
Glider's pizzeria
Garden café
Nyingma kitchen and café
Vairagi café
Ticksy food corner
Silver linings café
Other Places to visit in and around Bir Billing
Just like Bir and Billing, the places in the periphery are also exceptionally serene. If you are flexible about the number of days, I think the beauty of places around Bir will also leave you spellbound.
Here are some of the places around Bir which are under-rated and deserve attention.
Bangoru waterfall
Rajgundha valley
Barot valley
Palampur
Baijnath mandir
Private tea estates
Pong lake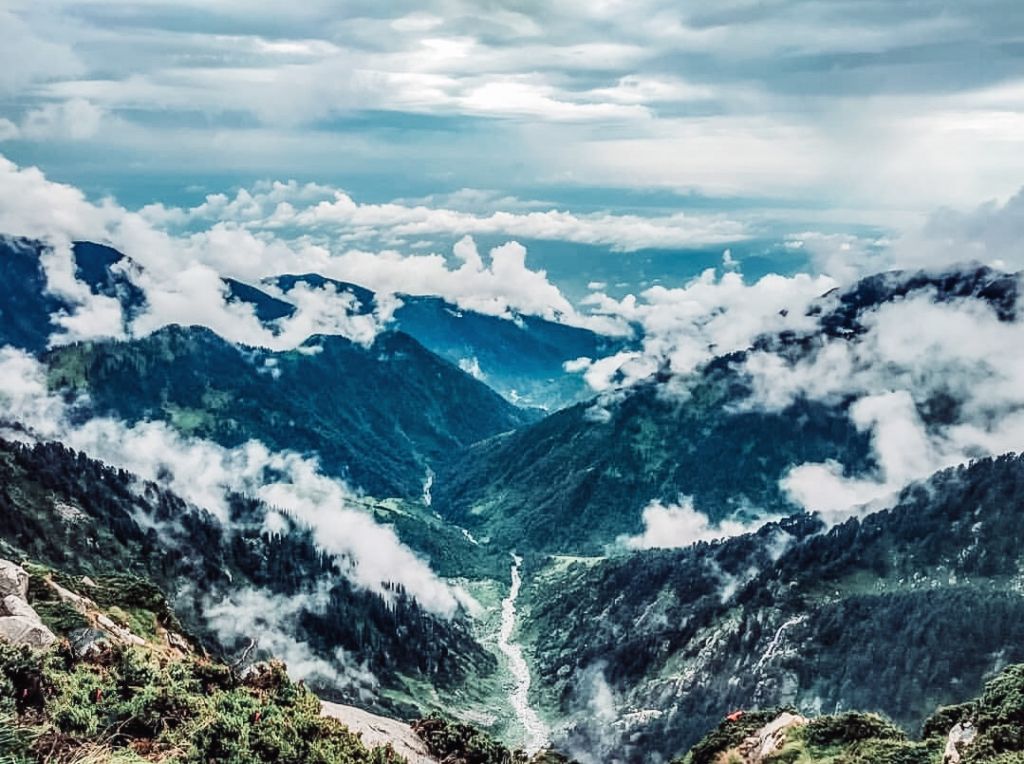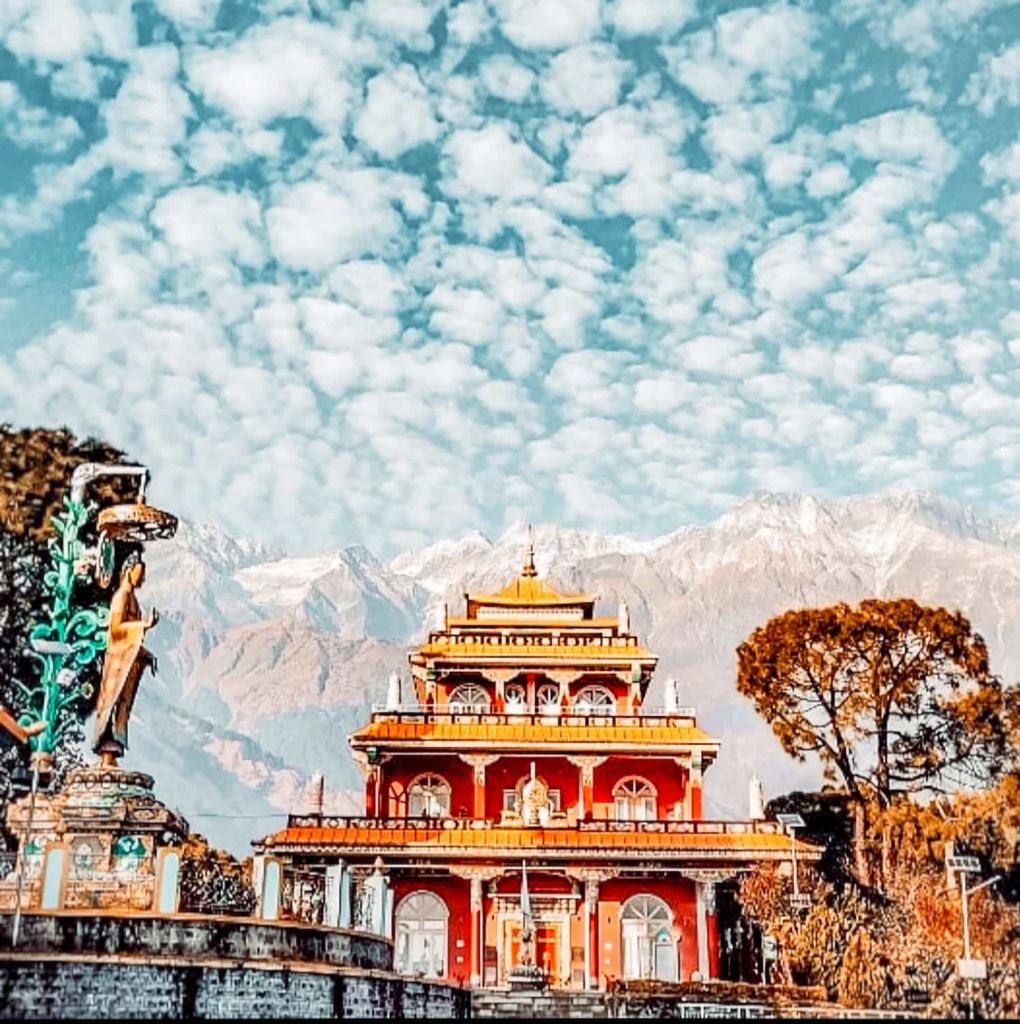 Useful tips
Do remember to carry enough cash as there are hardly any ATMs here, that too mostly without cash.
Network availability is pretty good in Bir Billing, so you need not worry about the same.
There are many options available for renting bikes, activas, and bicycles to go about the village. And these options are much cheaper than taxis.
Bir Billing Paragliding price might vary from pilot to pilot. But, the optimum is between 2000-3000INR. So, be careful so as to not be deceived.
The joy of little things in Bir!
Overall, Bir is an excellent destination for budgeted travel even when you have a time constraint and want a weekend getaway. Despite being quite famous, most of it is still unexploited and untouched. The experiences that Bir offers are out of the blue and hence, trip to Bir can be one of those vacations which are both relaxing yet adventurous.
Go ahead and explore it for your next vacation!
Also Read: An unexplored village beyond kasol- Grahan
Also Read: 15 Epic Destinations to Chase the Monsoons in India
Also Read: Travel to Wisdom and Fulfillment
More pics from Bir Billing