Explore the Secret Oasis of Serenity and Happiness!!
While Nainital remains the hot spot of Uttarakhand and tends to savour all the hype, Mukteshwar silently remains concealed in its close vicinity. Therefore, it continues to be one of the unexploited gems and is often underrated.
But, trust me, when I say that Mukteshwar is a spectacular utopia with lush green coniferous forests, magnificent mountain peaks, and cobalt blue clear skies. It is encompassed by the snow-capped mountains of Uttarakhand and the four sublime lakes of the Kumaon Valley. Its soundlessness, tranquillity, and kaleidoscopic views are truly magical.
The drive from Delhi to Mukteshwar is adorned by flamboyant panoramas which make it truly unforgettable. It is a road trip like none other and a power-packed package of both adventure and calmness. While just like Bir-Billing, Mukteshwar is also considered as a weekend getaway from Delhi; but it has numerous places around it which are bound to tempt you to extend your trip.
So are you ready to plan a crazy trip to this secret oasis of serenity and happiness? Let's dive right into it…
All About Mukteshwar Trip
How to reach Mukteshwar from Delhi?
Mukteshwar is well connected to Delhi and nearby touristy places. Mukteshwar to Delhi is a drive of around 350kms and takes approximately 8-10 hours. Therefore, it is one of the ideal weekend getaway destinations from Delhi.
Haldwani to Mukteshwar is around 70kms and takes approximately 3 hours.
Route 1: Delhi – Ghaziabad – Moradabad – Rampur – Nainital – Mukteshwar.
Route 2: Delhi – Faridabad – Aligarh – Bareilly – Haldwani – Mukteshwar.
The route 1 is, however, shorter than the route 2 and the road is well maintained. You can also stopover at the lakes around Mukteshwar on your way. All you have to do is make some little detours which can be easily understood, looking at the following image (Source- Zostel).
You can also exercise choice for various other modes of transportation such as HRTC buses, Volvo buses, private taxis, and even trains. In my view, both HRTC buses and Volvos are agreeable modes as direct buses are available at various timings throughout the day. They can be booked conveniently from the Redbus.
Local transport in and around Mukteshwar
Since I had taken a road trip to Mukteshwar from Delhi, I did not require any local transportation. But if you prefer to go by bus or a train, the following local transportation options might come handy.
There is ample availability of taxis to go in and around Mukteshwar. They are not much expensive, although a little negotiation never harms.
Everything is the town is mostly at a walking distance. So, you can always ramble to places and save yourself some extra bucks.
You can also rent a bike from Nainital or Haldwani and go about the town. This is fun and economical too.
Best time to visit Mukteshwar
Mukteshwar is accessible all throughout the year.
The summer season (April to July) is the most favourable as the sky is clear, and the Mukteshwar weather happens to be pleasant; hence, it is the peak time for tourism.
The monsoon season (August to mid- September) experiences good rainfall, and so the traffic jams increase exponentially around this season. Thus, it is not an ideal period to tour this abode. However, during the monsoons, the town gets covered by an impervious green blanket and leaves you spellbound!!
The winter season (October to March) is cold here, and it mostly snows by the end of December. This happens to be my favourite time to tour this aureate town as Mukteshwar snowfall is to die for. Post the snow, it turns into a glorious winter paradise with scattered sunbeams which is a treat for the eyes.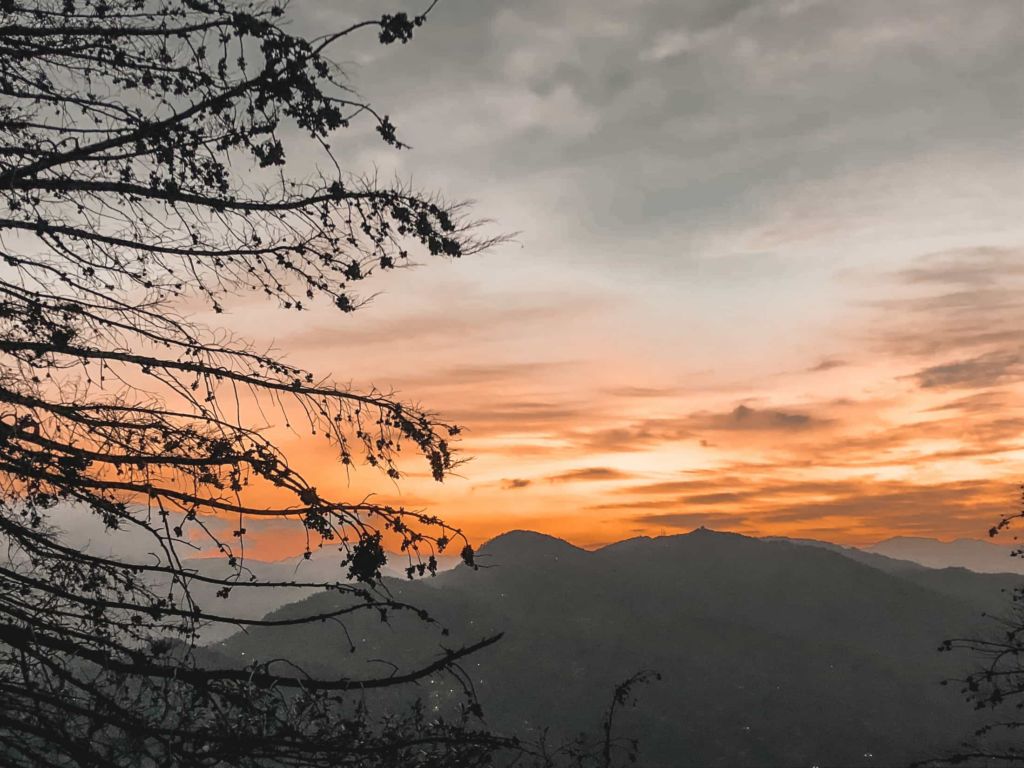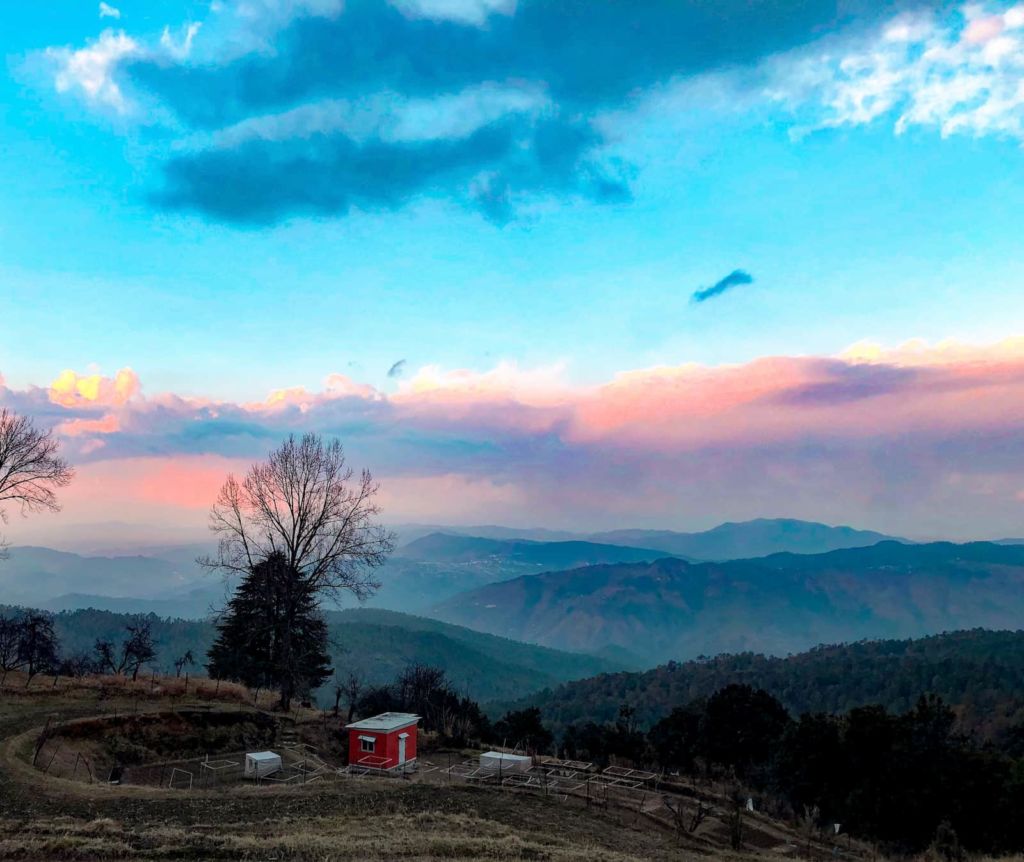 Best Places to Stay in Mukteshwar
Wondering where to stay in Mukteshwar? Don't you worry! I have got you covered ☺
From luxury resorts to quirky homestays and glamping hotels, Mukteshwar has varied options available for a stay! Below I am going to list some of the best stays in Mukteshwar.
Zostel Mukteshwar
For all the Backpacker souls out there, Zostel Mukteshwar is a perfect escape. It came up recently in 2019 and is it a few kilometres away from the hustle-bustle of the main town which keeps it secluded and raw.
This backpacking hostel, nestled amidst the wilderness, has a seductive vibe and a fantastic charm. It has an open terrace overlooking the mountain peaks and yards of apple, plum and apricot trees.
Make sure to book it well in advance as it gets occupied real soon. Click here to book. (Image source-Zostel)
Mukteshwar Homestays (Vineet Homestay)
Cute, quirky Homestays in Mukteshwar are available in abundance, and most of them have a splendid backdrop. I had stayed at the Vineet Homestay which rests at the core of the town in the wild overlooking the verdant forests. It surely felt like a home away from home where I slept to the twinkling lights and woke up each morning to picturesque sunrises!
The host is congenial and of course, an amazing chef. They traditionally serve home-made food and also cook local cuisines for the guests, which is a delight. It is a cheap and a comfortable stay which lets you experience the slow minimalistic life.
You can call them directly to book them in advance or from makemytrip.com. Contact Details- +919690781589.
Machus cottage
Machus Cottage is a luxury cottage property in the lovely village of Mauna of the Kumaon valley which is a few kilometers away from the main town. I have not really stayed in this property but did stop by at it, and it left me spell-bound. It's a stunning property with scenic grandeur of the Almora hills. At night expect to sleep under the Star-Spangled Velvet Sky.
The cottage is a rustic vintage property with five bedrooms and can be booked entirely for INR 15,000. A single room costs around INR 5,000 per night. It is a bit expensive, but totally worth the price!
Feel free to book them from Airbnb or call them directly. Contact Details- +91 9899874865.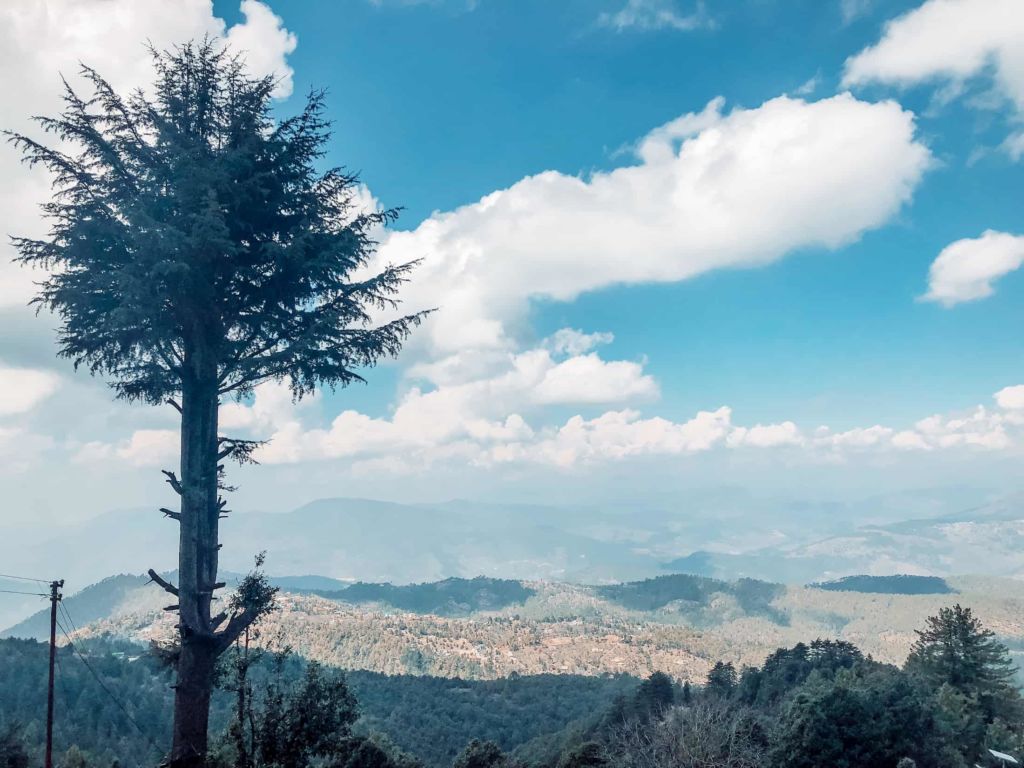 KMVN Tourist Rest House Mukteshwar
This is also a premium quality government maintained stay in Mukteshwar which is again known for the alluring panorama it offers. It is situated in the bosom of the town. It has extravagant bedrooms with paramount comfort and ultimate taste of hospitality.
The only issue with this property is that it gets booked really quickly during the peak season. So book it well in advance at www.kmvn.in.
Places to Visit in Mukteshwar
Mukteshwar is one of those places which have something exclusive for everyone's taste- Be it an adventure, mainstream, offbeat, spiritual or crazy. So be ready to checklist a lot of activities that you had in mind while searching for your perfect weekend getaway.
Given below is a list of my best places to visit in Mukteshwar…
Chauli Ki Jali
Also known as Chaul Ki Jali. The name might sound weird to you; of course, it did to me. But this is one site in Mukteshwar I went to every single day of my stay here. Standing here every evening, I have seen the Sun elegantly dip into the horizon, and the dusk slowly crawl in with fleeting patterns and shades. It is proudly known as the Sunset, and the Sunset point of this adorable town and undoubtedly is the singular place to witness bold, brilliant and tangerine sunsets!
To the locals, Chauli Ki Jali is sacred ground, but to the travellers, it's an adrenaline rush to stand here at the cliff overhanging the infinite abyss overlooking to the villages below. Also, the madcap in you is going to fall in love with it as it a site for rock- climbing, rappelling, and zip-lining. So, do step into your best shoes before you walk here for a terrific experience!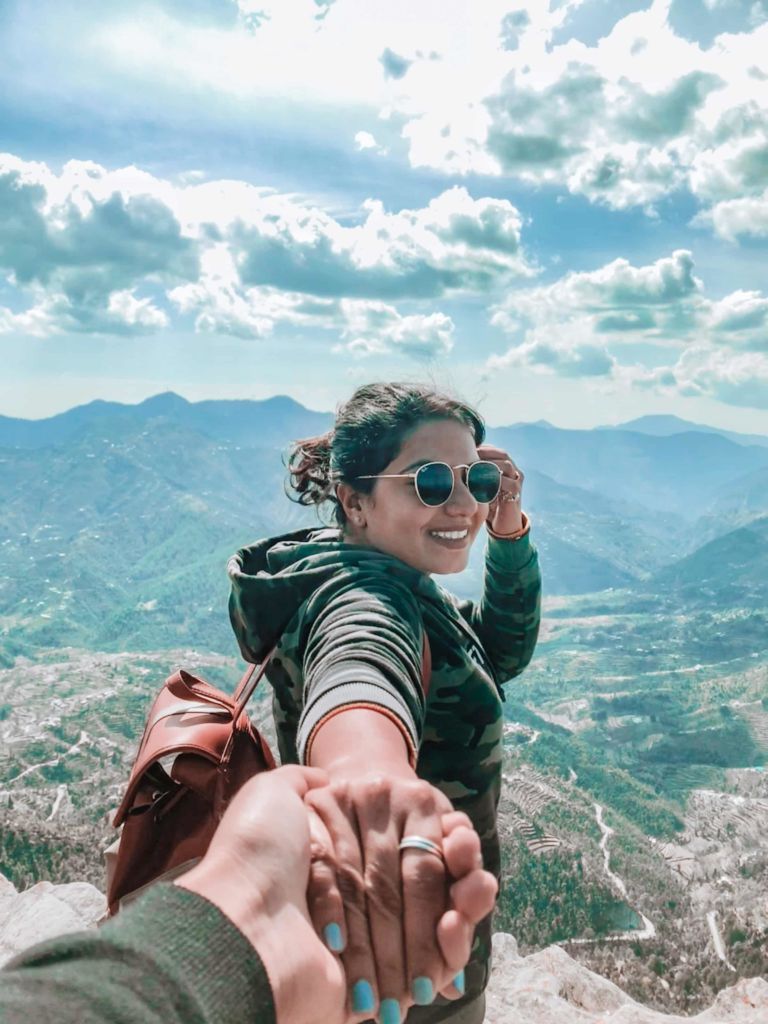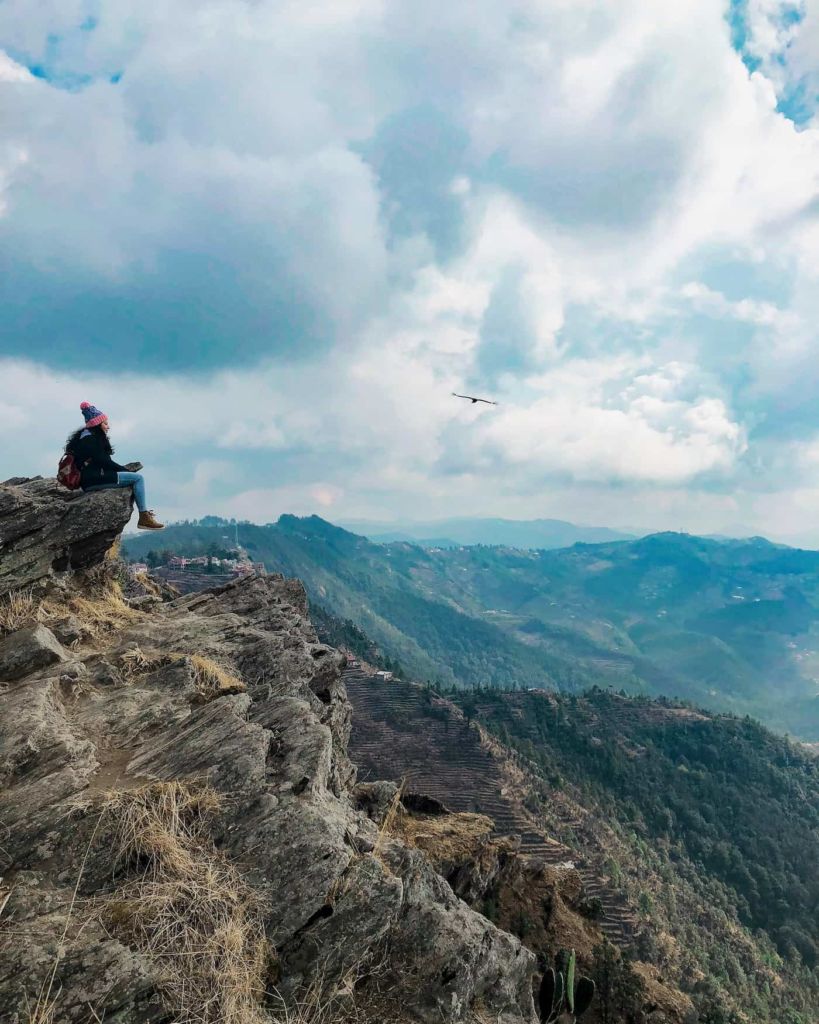 Mukteshwar temple
Mukteshwar temple is an archaic Hindu temple dedicated to the mighty Lord Shiva. Located on the trail that leads to Chauli Ki Jali, this temple attracts many tourists each year in search of spirituality. It is perched at the highest elevation of the town precisely, 2300 meters above sea level.
Bhimtal
Bhimtal boasts of being the largest lake in the state of Uttarakhand and of being blessed with the most abundant diversity of migratory birds that fly here each summer. Though this a bit far from Mukteshwar but the drive is serene and of course the lake is worth it. (Mukteshwar to Bhimtal- 45kms)
There is an island house amidst it which has an aquarium with assorted collection of fish species. It is accessible by a boat. Locals and tourists also often come here for family picnics and boat rides in the lake.
Sattal
This might blow your mind, but Sattal is actually a cluster of seven lakes, present deep in the wilderness surrounded by pine and coniferous trees. This is what makes the totally enchanting- the reflection of sky tall trees in the clear water of the lake. At night the sight is unbelievable as the glimmering city lights and the stars reflect in the lake water.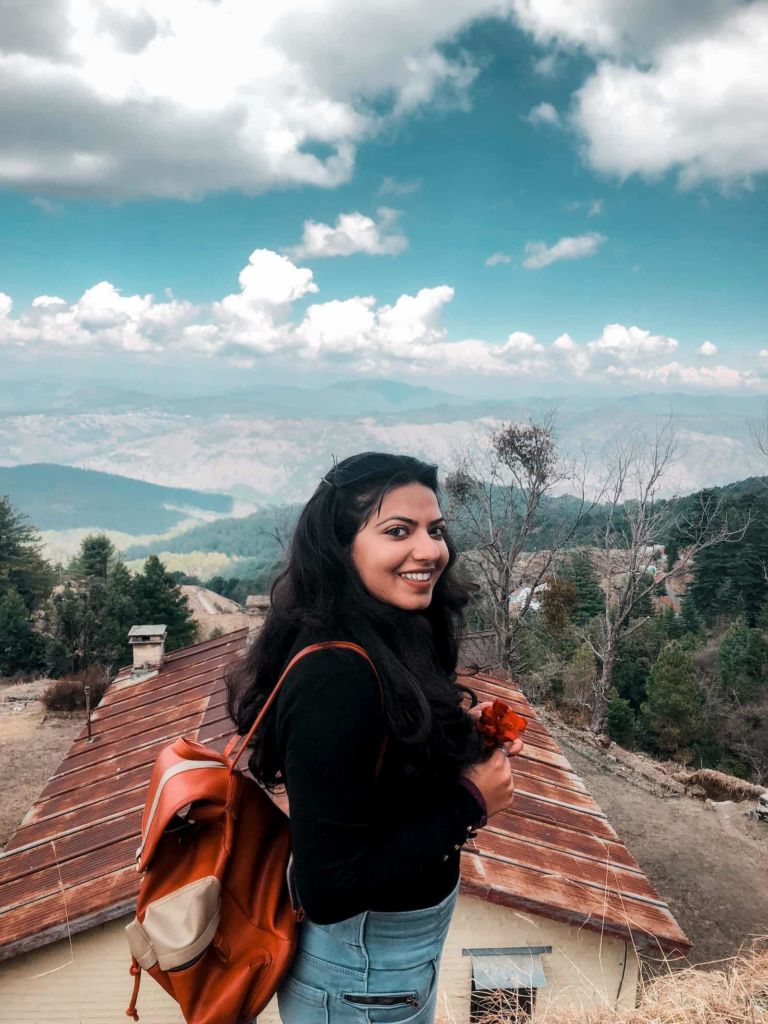 Nainital
This is the most preeminent lake in Kumaon region and is often visited as a day trip. The other tourist attractions around this lake are the Tiffin Top, Naini peak and the Mall Road market. You can indulge in Boat rides, Kayaking, Day Picnics and shopping here. Expect this lake to have that typically cramped hill station vibe during the peak season.
Naukuchiatal
This is one of my favourite lakes to go to owing to the thousands of lotus flowers that bloom in this lake during the summer and the spring season. Naukuchiatal also brags of its unique shape, being nine cornered and the deepest one amongst its sisters; thus giving every reason to drive a few extra miles to have a glimpse of this beauty.
Bhalugarh Waterfall
It is one of the least visited places probably because one has to hike for 40-50 minutes into the dense beaten tracks to reach here. It is surrounded by clusters of trees and is a very calm place to be at. You can totally enjoy solitude and quietude being here.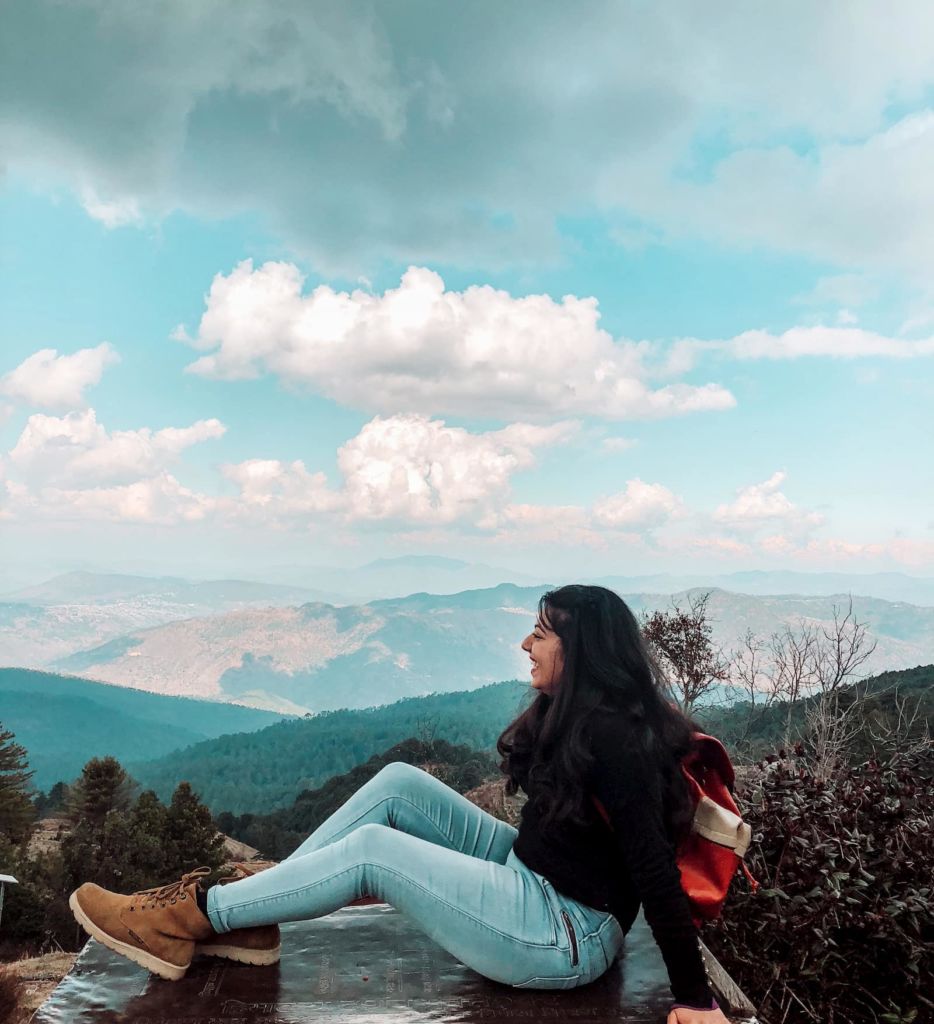 Things to do in Mukteshwar
Go for refreshing Nature Walks- Early Morning strolls are a remarkable way to begin a day in the natural setting of Mukteshwar. They give a chance to reconnect with Nature, to find solitude and to admire the enticing little things.
Paragliding- Mukteshwar is also a go-to place for paragliding. However, it is not the best and the safest locus for it. If paragliding is what incites you, Bir Billing is the destination that awaits you! Read all about it in my Blog.
Say Hii to the Adventurer in you- If the daredevil in you is craving for some adrenaline rush, you can engage in rock- climbing, rappelling, and zip-lining.
Vile away some happy time at the Inspection Bungalow- This might seem as not so exciting, but it is actually a cool thing to do as the Inspection Centre has a gorgeous garden at its back espying to the Nanda Devi Mountain peak. And who can ever deny going to an instagramable place for some beautiful pictures! (thank me later :P)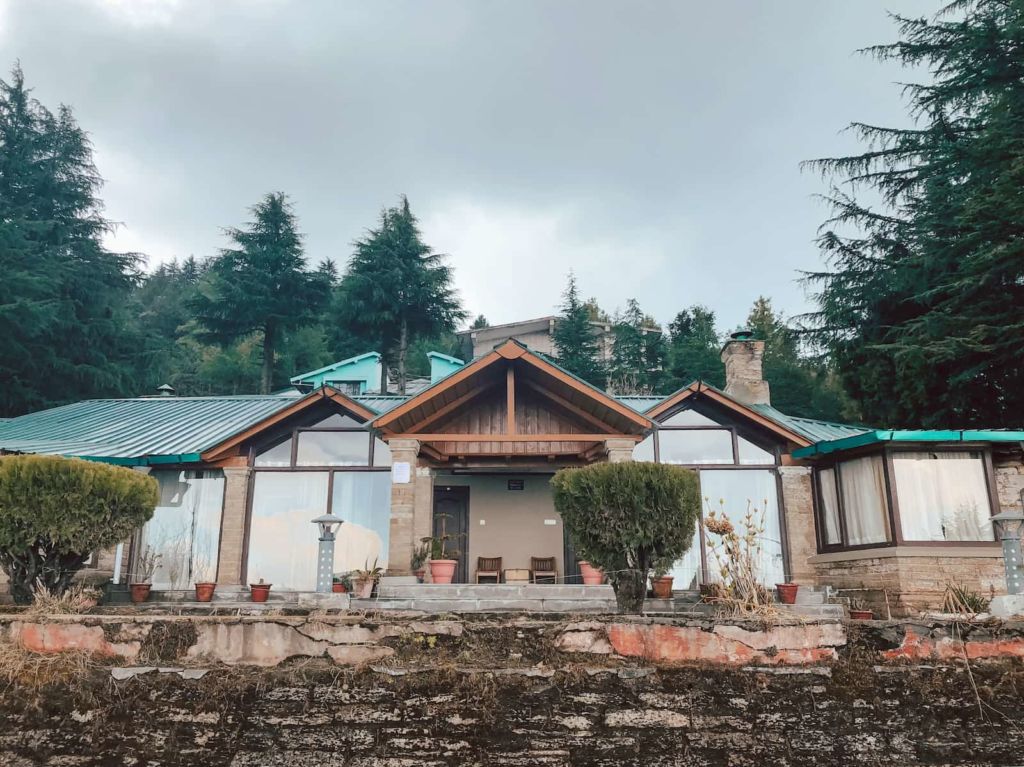 Watch tangerine sunsets- I can't help but mention this yet again. Don't miss out onto the apocalyptic sunsets of Mukteshwar. Both Inspection Bungalow and Chauli Ki Jali are killer sunset points.
Make wishes at the shooting stars- Did I just forgot to mention Stargazing? Oh, of course not. Stargazing is by far my favourite thing to do in these mountain dreamlands.
If you also fancy starry skies like I do, you shouldn't miss out this gem I found hidden in the Parvati valley!
Trek to unexplored trails- What is a mountain escapade without hiking some ethereal trails in dense forests! Amongst the preeminent treks are Peora, Sitla Jungle trek, Raata Quedel trek which quite long and hectic.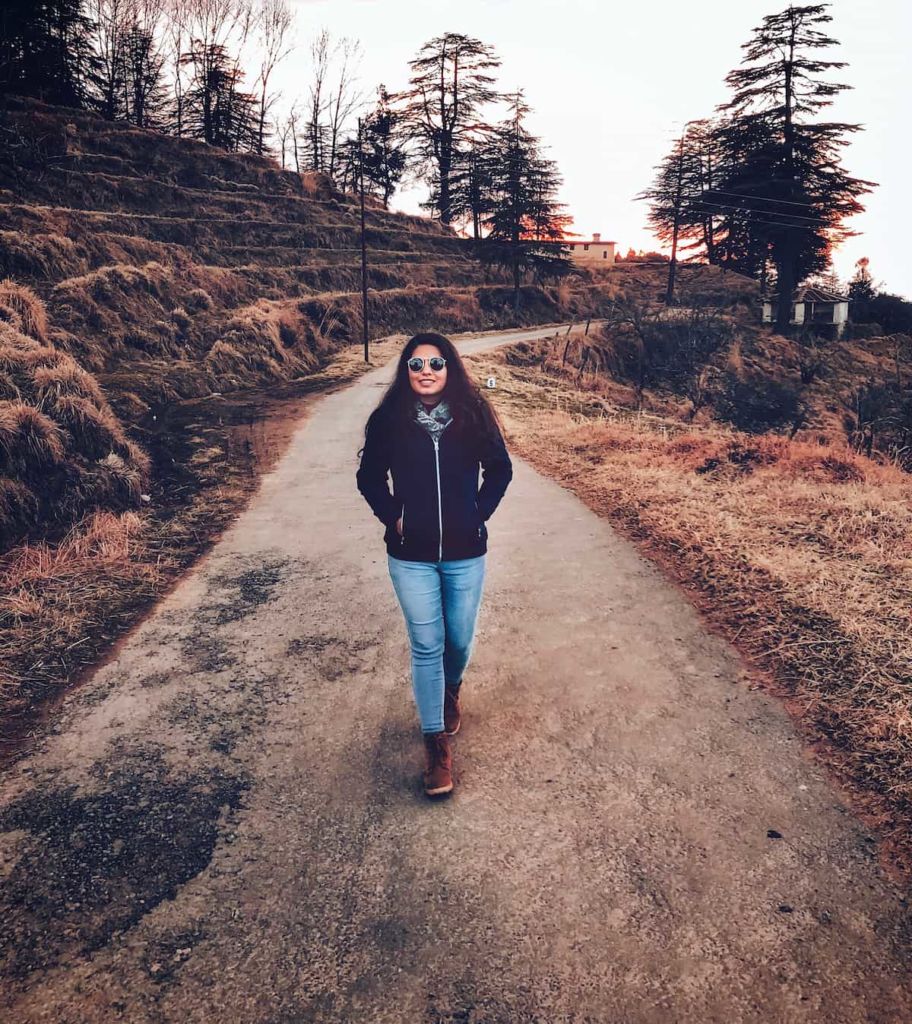 Best Eateries and Cafes in Mukteshwar
There are not plenty of eateries and cafes in Mukteshwar and they usually close early after dusk around 8-9 pm. Also, most of the cafes are a bit away from the main town and have lesser food options available during the offseason.
Local café- if you are a caffeine addict like me, this café needs your attention. The intricate setting of this café and the delicious food fulfils the soul to the bits.
Birdcage café- If excellent food with an enthralling view is your thing, Birdcage café is going to leave you drooling!
Aunty ka Dhaba- For finger-licking good desi Indian food, stop right here. It is cheap, hygienic and homely.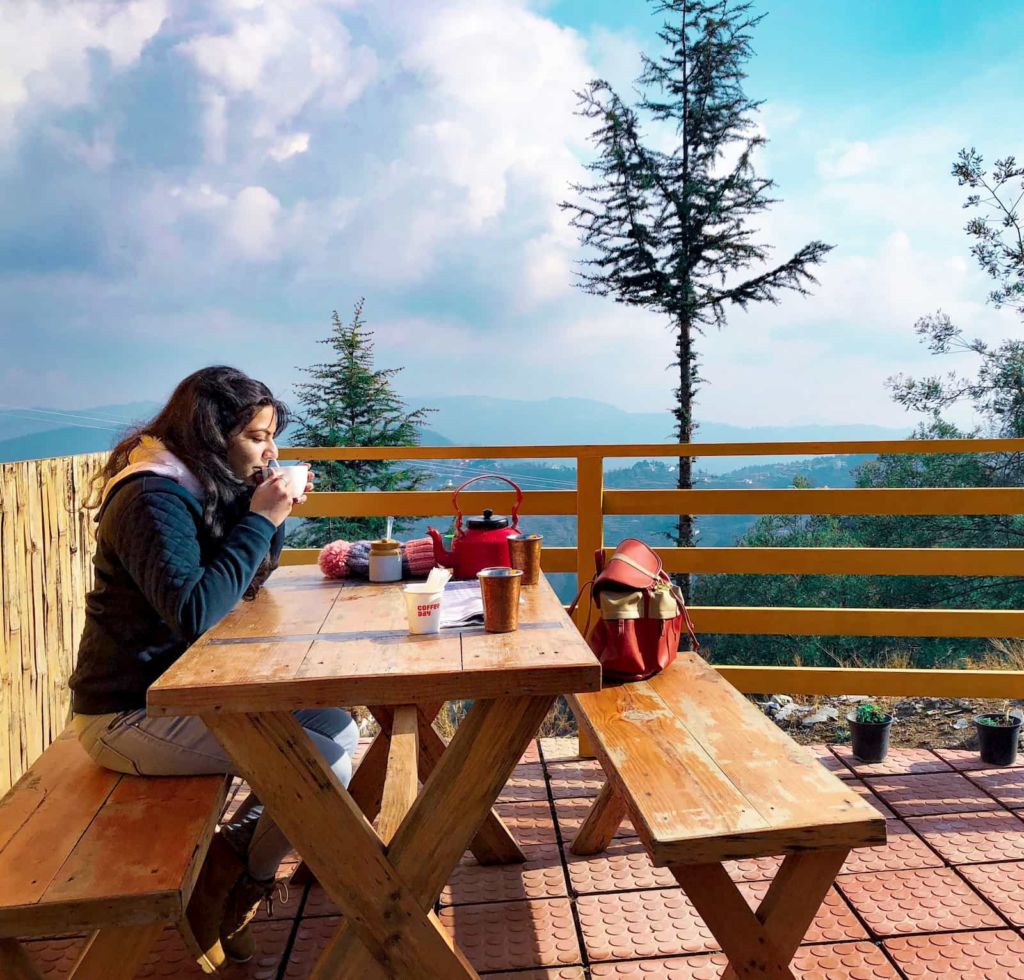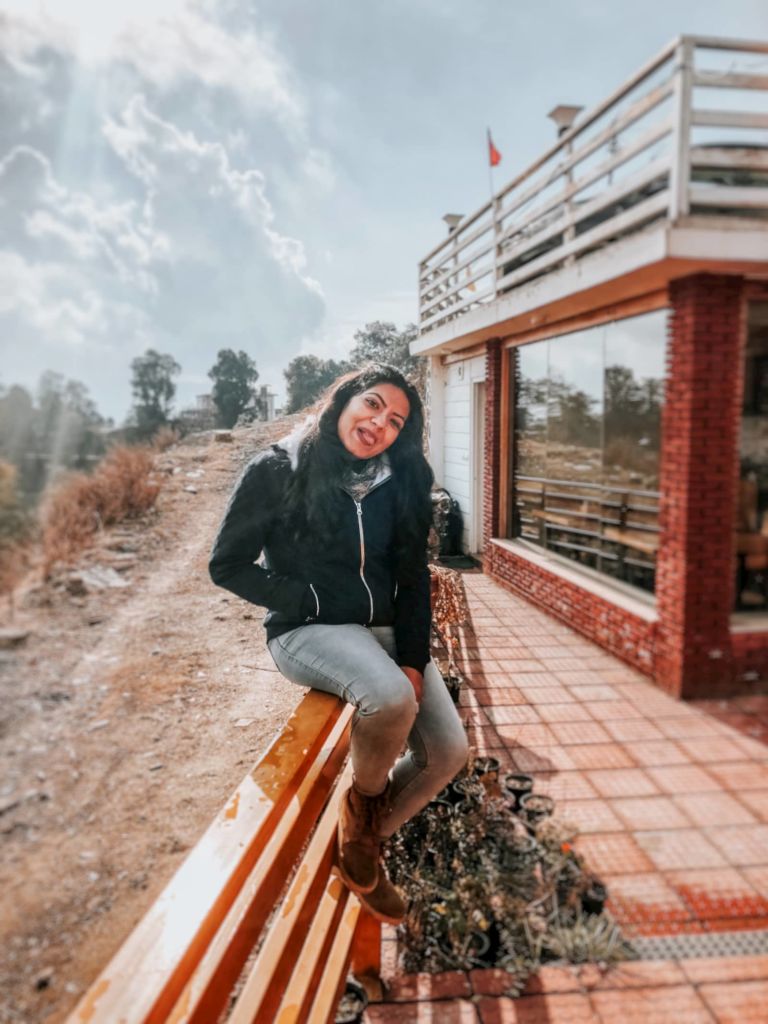 Touristy Places to visit near Mukteshwar
This list can come out be really long hence, I am just penning down the acclaimed places in the closest vicinity of Mukteshwar. Overall, it wouldn't be wrong to say that all these neighbourhoods are also reasonably divine. If you are on a time constraint, consider avoiding them.
Ramgarh to Mukteshwar- Around 30kms
Mauna to Mukteshwar – Around 31kms
Mukteshwar to Bhimtal- Around 45kms
Mukteshwar to Nainital- Around 48kms
Mukteshwar to Almora – Around 52kms
Mukteshwar to Ranikhet – Around 80kms
Useful tips
Do remember to carry enough cash because there are not many ATMs here.
Network availability is pretty good in Mukteshwar. Hence, you need not worry about the same.
Prefer making bookings for your stay in advance, especially during the peak season.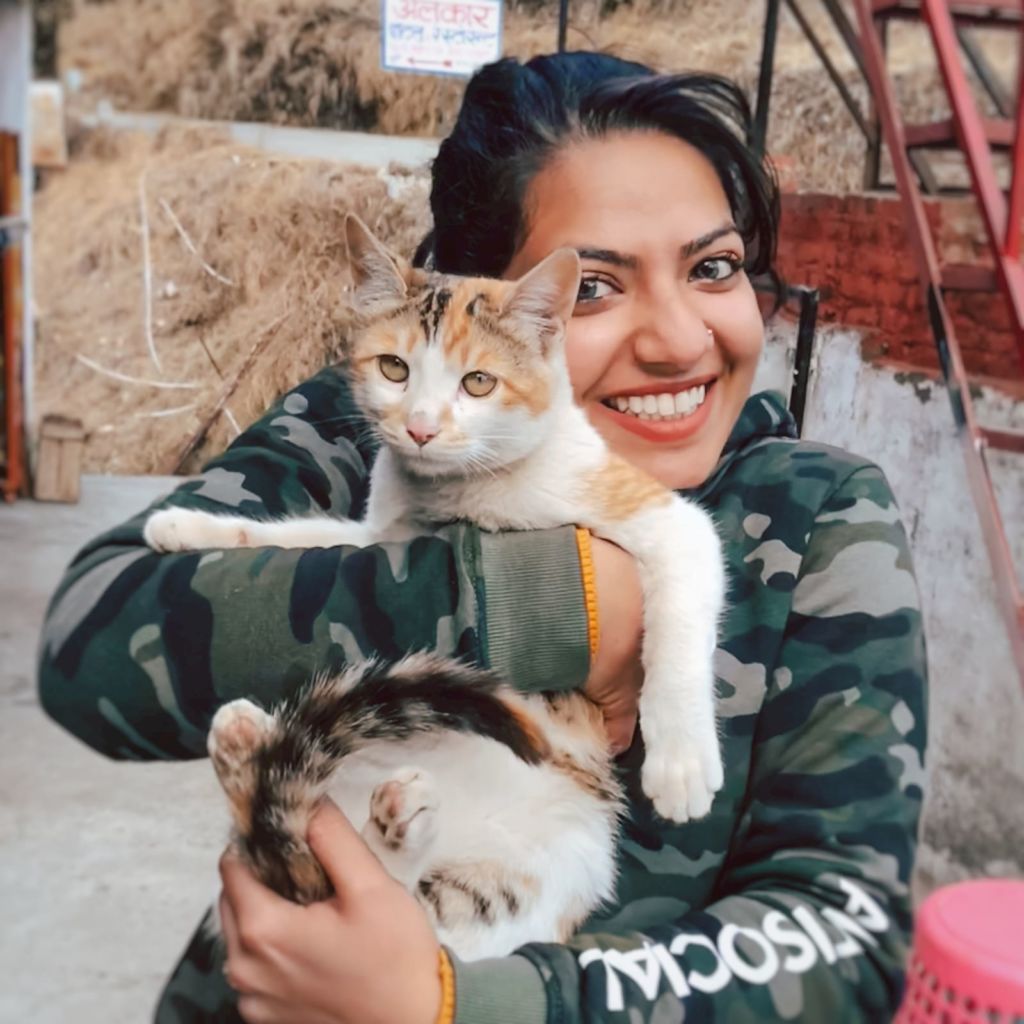 From Mukteshwar, with love!
Snowy Mountain Peaks, Oak Trees and Pristine Lakes- Mukteshwar is undoubtedly for the gipsy souls! I am forever going to cherish driving to this beauty and hope you do too!
I urge you to travel responsibly and diligently. Let me know in the comments below about your experiences from this whimsical land!
I hope you enjoyed the photos…
Also Read: 15 Epic Destinations to Chase the Monsoons in India
Also Read: Travel to Wisdom and Fulfillment
Also Read: 10 Reasons Why Every Girl should Trek at least once in her Lifetime
Also Read: Sustainable Travelling: The Secret to Become a Soulful Traveller!